White Rock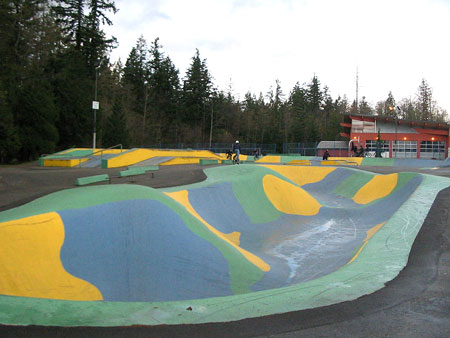 The White Rock skatepark. Big bowl in the foreground and the street course in the background.

Description:
First of all, why does the park look so funny? Well here's a brief history of the park. The bowl was built back in the late eighties. Sometime after Seylynn, Griffin, and China Creek. It was built in an old school style but they made it deeper and steeper than the others. This is progression I guess. After a few years the city added a street style section. I don't know why they made all the flat areas out of rough asphalt, I though skaters built these things? Anyway things ran smoothly here for years until the city decided that they were sick of painting over graffiti. They came out one day and painted over the park with super slick, white anti-graffiti paint. Well thanks to the graffiti "artists" the park was basically turned into a death trap. Nobody rode there for a year or so until the city came back and painted over the slick coating with this super grippy clown paint that we see today. It's ugly but at least the park is ridable again.

The White Rock park is quirky but there is so much to ride that you can easily spend the day here and never get tired of it. If you have slid all the ledges and fired out all the rails you can always move over the the burly bowl and session that for a couple of hours. There are also plenty of unique features here like the quad rollers or the gap pyramid thing. The jersey barrier quarter thing is something that people would drive out to ride by itself, if it was a street spot. Anyway this park is definitely worth the drive out to White Rock. Pick a sunny day and spend the day out there, and if you see any graffiti guys on the way there "thank" them for almost ruining a great park.

Address/Directions:
I have no idea. It's in a big huge recreation area with soccer fields and community centres on 20th Ave. between 145th and 148th St. Get on the 99 and take it to 152nd St. Then drive South untill you hit 20th Ave. Turn right and drive 6 or 7 big White Rock sized blocks. The park will be on your right.

Comments? Click Here


Hip at the end of the mini-bowl complex. The super pro rail kind of ruins the hip landing unless you go over it.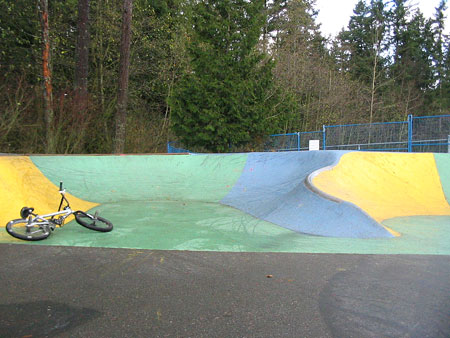 Mini-bowl to the right of the hip, with a spine thing that leads into another mini-bowl section.
Super small pyramid. We were hopping from flat and landing on the backside.
The second mini-bowl flows into this wedge hip with a curved ledge on top. The wedge flows into a 3' quarter which ends at the barrier.
A shot of the jersey barrier quarter at the end of that side of the park.
Doesn't this look like fun? Too bad it's aluminum.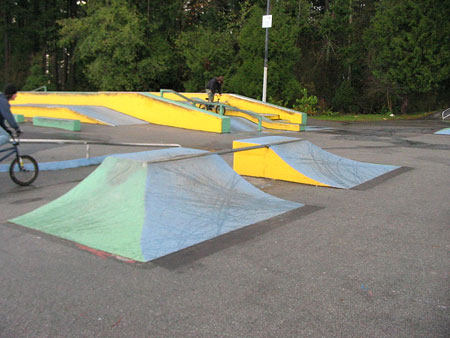 Transitioned gap pyramid thing.
This big street box thing has rails and ledges coming out of it all over the place.
Look stairs! Real simulated street.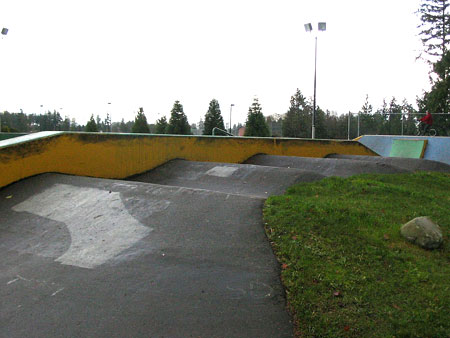 Asphalt roller quad behind the street box.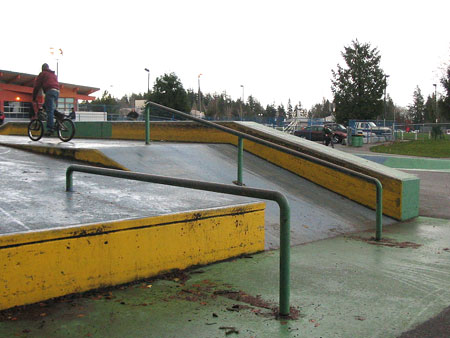 The back of the street box has two round rails on it. One flat and one sloped.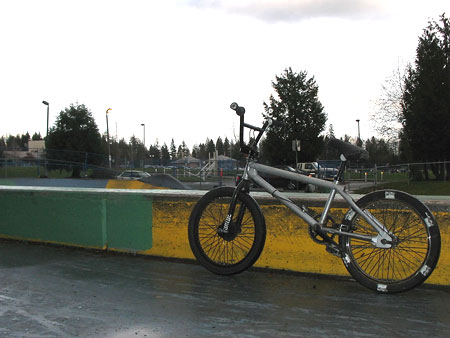 This is the ledge that spans the whole top of the street box thing.
The round rail is just under stem height.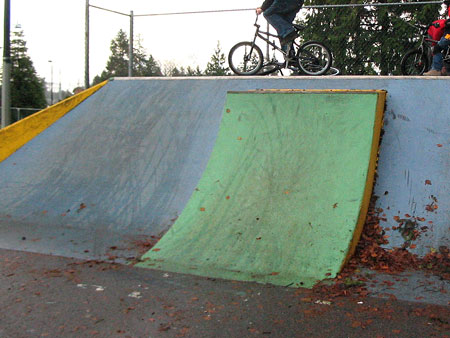 After hitting all that stuff you hit this steep quarter/ steep bank combo.
The bowl.