Strathcona, Vancouver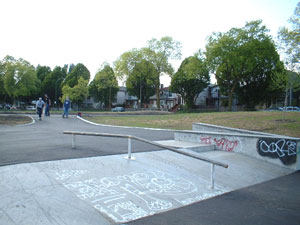 One of the most fun parts of the new strathcona park, the round rail.

Description:
This is one of Vancouver's newest parks and it is a New Line Skateparks 'street style' or 'skate style' park. If you like low ledges and mellow banks this is the park for you. The park is brand new so the some of the local skaters are a bit touchy about pegs chinging stuff, (mainly just a guy named Kevin lol). This park is very well built though with heavy square metal coping on everything in sight. I think a bomb would have to go off to damage this park.

The park is set up with a 'U' shaped bank with a very mellow hip at one end, the hip is good for skate flip tricks but has no boost. I could backside ollie over the hip on a borrowed board after not skating for 3 years so that tells you something. At one end is a really nice round rail, then a curb step-up with a flat ledge beside it. Then beside that is a long, downhill, left side ledge. Right after that, on the flat ground, is a regular flat ledge, it's about 5' away from the downhill ledge.

At the other end, over the hip, is an angled sub box and a flat to downsloped, right side ledge. The rail and all of the ledges in this park are below tire height but the flat ledge does get up to somewhere around bar height right at the bottom of the bank.

This park is all about the street skater scene so it's not the best for BMX. It's a fun hit on the way between China Creek and Downtown but there's not much to work up to in this park. Everything is mellow and low, it looks really fun for skaters but it's probably not worth it to travel to. Good for a mellow morning session or bring your skate.

Address/Directions:
The strathcona park is on venables street in between Clark Dr. and Downtown. From Downtown ride over the Georgia Viaduct and cross Main St., keep going straight along Venables, the park is on your right. This park is right along the 22 Knight St. bus line that takes you up Clark Dr. to China Creek.

Comments? Click Here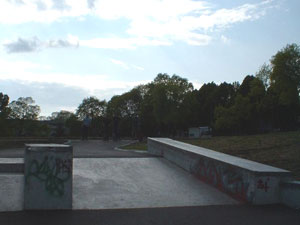 The pic's a bit dim but here you can see the long left side downhill ledge and the flat ledge. The flat ledge has a step-up beside it and starts out low but is bar height at the end.
Here's the low, below tire height like everything else, flat ledge that starts right after the downhill one.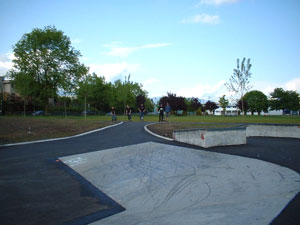 The corner to the mellow hip and the slanted sub box.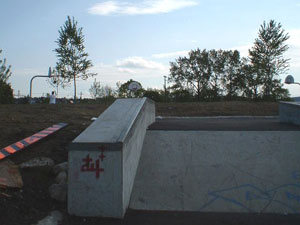 Flat to downhill, right side ledge. Starts at under tire height and is maybe stem high at the bottom.