Sechelt

The Sechelt skatepark in the fog.

Description:
This skatepark was built quite a few years ago and it looks like the city did the construction. The park actually has a really good layout but the construction is fairly shoddy. Some things are falling apart a bit and some things are a bit home made looking. For example all of the coping on the quarters is only about 1" in diameter and is pulling up in spots. The long grind rail thing on the jump box is super slow grinding, it's hard to make it across the flat top section. Also the the ledges on the second pyramid do not have continuous coping. Instead of bending and welding a longer piece they just put steel on the flat sections and threw some aluminum on the downsloped sections. They should have also seen during construction that putting those two extensions on the mini would just make it too narrow to ride. It probably looked good in the plans but in real life it's very cramped.

Even though this park has some things that are easy to complain about the layout makes it fun as hell. Just drop down the big roll-in, fly over the box, manual the big L-shaped pyramid, blast an air on the 8' quarter, and head back to where you started. I bet the locals fly around this place and barely pedal once. It all flows really well. The concrete is kind of rough and grippy which is perfect for this park. I rode it in wet, foggy conditions and I had plenty of traction. Plus they didn't skimp out and put asphalt on the flat bottoms which is nice. The coping on the big long quarter at the back of the park is small but the transitions are perfect. The 8' goes right to vert and is super fun to air and I'm sure that lots of people have learned tricks airing from the quarter and landing on the flatbank under the sub. The sub is at least twice as tall as the Richmond bank to sub so it's actually challenging to ride which keeps things interesting. It's nice to find a park where things are big and tall and they didn't just put curbs and low ledges all over the place.

If you are planning a trip to the Sunshine Coast hit up this park and then grab a session at the Gibsons bowl. The Sechelt park is super fun so just ignore the weird bits of construction here and there. Pump up your tires and just fly around at top speed. This is a flow park and there is lots of fun to be had just going fast and blasting that big quarter at the end.

Address/Directions:
Drive into Sechelt and just keep going straight all the way through town on the road you are on. You'll be one block away, parallel to the main drag the whole way. The road you are on will curve left at a public school. Take your first right on to Barnacle I think it's called. Barnacle will go up hill and turn right and then left. On the right you will see a road that says "Exit Only". This is the road the skatepark is on. Just keep going to the next street and turn right into the high school. Keep right and you will see the park.

If you get lost the skatepark is right below the high school, so just ask anyone you see where the high school is and they will be able to give you directions.

Comments? Click Here


Big ass starting hill. Very steep and pretty tall. That little channel from the mini quarter to the bank is fun too.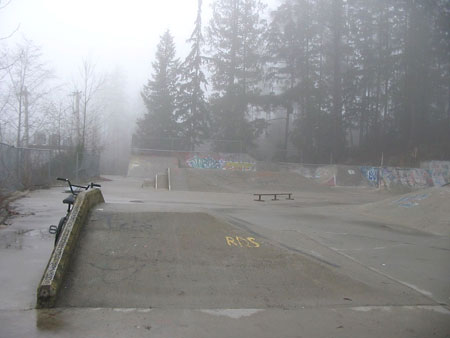 Small pyramid with a curb on it.
Hipped box jump with a rail on it. It's pretty mellow so you don't get that high when you jump it. The rail is alloy and sticky too.
There are a few flatbars lying around.
On the backside of the box there is another tranny to tranny box that hips the opposite way. Transfers over the rail are totally possible.
Narrow 6' mini with extensions. Why they put extensions on a 16' wide mini I don't know.
This is the side of the second pyramid you hit after you drop in from the starting hill. It's pretty fun to manual around the curve.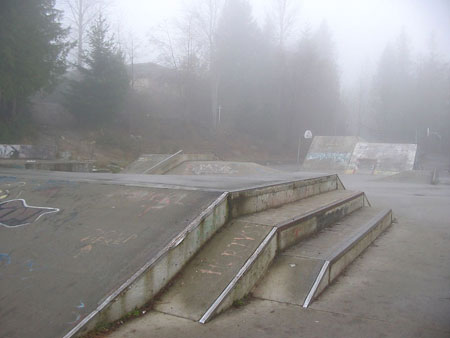 The other side of the second pyramid thing has a bunch of ledges on it. I almost cut my tire on a sharp edge because the coping on the downslope is a separate piece from the flat part and they don't join up smoothly.
Hip from the quarter at the back of the park. Pretty good except that there is a wall right there in the way at the bottom of the landing.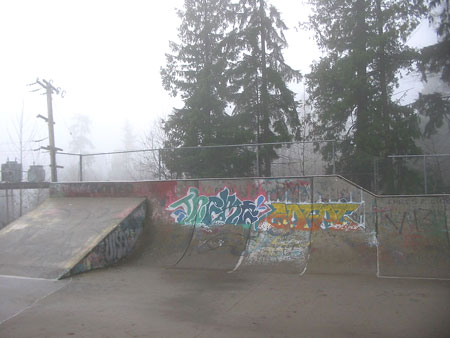 This is the rest of the quarter at the back of the park. It goes up an escalator from 6' to 8' and then there is a nice bank to 2' sub.